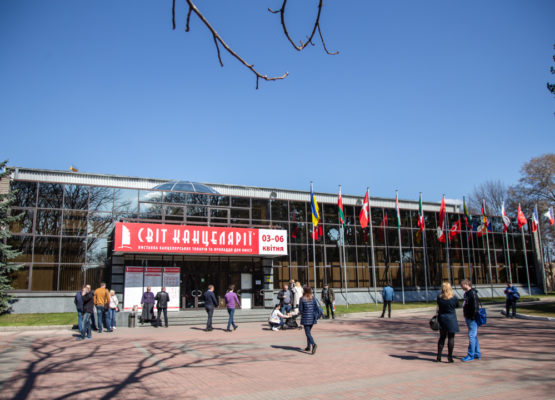 | | |
| --- | --- |
| Event: | 20th Specialized Trade Fair of Stationery Goods and Office Accessories WORLD of STATIONERY 2021 |
| Dates: | 19 – 21 May 2021 |
| Venue: | ACCO International Exhibition Centre (Kyiv, 40-B Peremohy Avenue, Pushkin Park) |
| Organizers: | Ukrainian Association of Stationery Goods Suppliers, Exhibition Company ACCO International |
WORLD OF STATIONERY 2021 trade fair took place successfully in Kyiv on May 19-21. The event featured a spectacular exposition with bright stands and a large number of novelties. The number of visitors reached over 1200 industry professionals – entrepreneurs, heads and owners of the retail stores.
In the spring of 2021, after a quarantine break, the main event of the Ukrainian stationery industry resumed its work – WORLD OF STATIONERY trade fair. 45 companies from Ukraine, Belarus and Serbia were presented in the pavilion. These are manufacturers and importers of nearly 70 brands from 13 countries.
Despite several reschedules due to quarantine, participants did their very best to present large-scale, brightly designed stands and their latest novelties. The exposition occupied almost the entire area of ​​ the ACCO International pavilion and covered 2,400 square meters.
Thus, the 2021 edition of WORLD OF STATIONERY kept its important role as a useful tool for business development. The event was attended by 1,257 people from all over Ukraine. More than half of the audience were representatives of the retail sector – entrepreneurs, owners and managers of retail stores – as well as distributors and manufacturing companies.
The list of exhibitors included such companies as 4PROFI, ALLIANCE ORBITA, APELSIN, ARKUSH, BRISK, COLOR-IT, DOM UPAKOVKI, DREAMS COME TRUE, EXPRESS OF LUCK PUBLISHING HOUSE, GULLIVER INTERNATIONAL, IDEYKA, IPT PUBLISHING HOUSE, JAMBI, KIRI SKETCH, KOVALCHUK, KRISTAL BOOK, LAVKA HUDOZHNIKA, LUXON, MAGIC SOUVENIR, MAGNETOPLAN, PAPERMILL OF GOZNAK, PAPEROVYI ECO SVIT, PEGAS PUBLISHING HOUSE, PODILLYA PRINTING HOUSE, PULSE OFFICE, SAMTEX DISTRIBUTION, SAVITON, SKAT, SMILE PUBLISHING HOUSE, SOVA PUBLISHING HOUSE, STRATEG, TALENT PUBLISHING HOUSE, TETRADA, TREK, TSO, TWM, UKRBOARDS, WILNO, WINNER ONE, WOLF PRINTING HOUSE, ZIRKA PUBLISHING HOUSE and others.
The list of product categories of the trade fair covers the full range of stationery needed in everyday life for work and study. These are paper products, writing instruments, office supplies, school goods, hobby and creativity materials, children educational literature, presentational equipment, business gifts, leather goods and others.
One of the largest and oldest Ukrainian stationery manufacturers – TETRADA – presented its latest novelties: oil and gel pens under its own brand, wax plasticine based on ceresin, colouring books and new school notebook designs.
Notebooks, diaries, albums for drawing were also presented on the stands of the most famous Ukrainian manufacturers: BRISK, PODILLYA PRINTING HOUSE, DREAMS COME TRUE.
In addition to classic notebooks, one could also find eco-friendly stationery at the exhibition, especially the one manufactured in Ukraine. Notebooks with different cover options and recycled office paper were presented by PAPEROVYI ECO SVIT. Odessa based manufacturer – KIRI SKETCH – presented this year's novelty – an eco watercolours album with the replaceable internal block of 40 sheets in a strong cover from a cork.
The Serbian company PULSE took part in the exhibition to present its products in Ukraine for the first time. The company manufactures school bags, city backpacks and bags for computers, suitcases and more. Backpacks for schoolchildren are made according to all quality standards and have a manufacturer's warranty of 25 months.
Backpacks as well occupied one of the central places of the fair. One of the largest stands featured the 2021 collection of the WINNER ONE brand and a new line under the SkyName brand. These are lightweight, durable and ergonomic backpacks for boys and girls with bright and three-dimensional patterns on the front pocket. All kinds of designs allow collecting a set with a pencil case and a bag for footwear.
Children's books were probably the most represented category at this year's fair. It was nice to note that Ukrainian publishing houses can offer well-thought-out, interesting and high-quality literature for children. The books were presented on the stands of the publishing houses APELSIN, JAMBI, KRISTAL BOOK, PEGAS PUBLISHING HOUSE, SKAT, SMILE PUBLISHING HOUSE, SOVA PUBLISHING HOUSE, TALENT PUBLISHING HOUSE, ZIRKA PUBLISHING HOUSE.
Flipcharts and whiteboards were exhibited at the stand of 2×3 brand, which is represented in Ukraine by VILNO Company. One of the most notable examples was the double-sided mobile magnetic board made of glass. It has two surfaces – glossy black and matte white – and is mounted to a durable anodized aluminium stand. Flipcharts with a completely transparent surface would also attract the attention of guests of any office.
Creative hobbies are still popular among Ukrainians. Thus, the exhibition offered a variety of tools of art works on the stands of BILYK PE, LAVKA HUDOZHNIKA, IDEIKA TM, STRATEG TM, TREK, SAMTEX DISTRIBUTION and others.
Visitors and participants could also have fun at the exhibition itself as the second day of the WORLD OF STATIONERY were National Vyshyvanka Day. Everyone was invited to take part in a Facebook flash mob. The winner has received a gift of high-quality colourful linen embroidered shirt.
Once a year WORLD OF STATIONERY exhibitions become an important event for entrepreneurs and owners of retail stationery stores. It is here, where they see new products in different categories, communicate with the largest manufacturers and suppliers, and choose reliable partners from Ukraine and abroad.