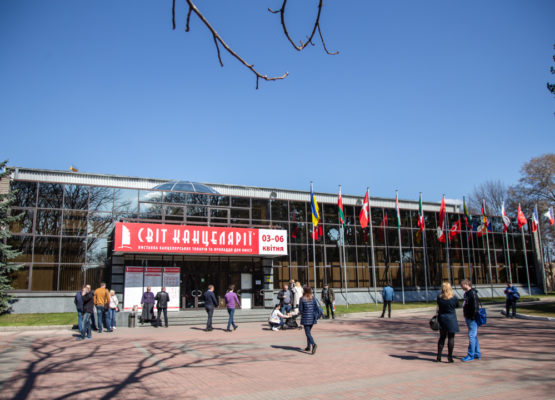 | | |
| --- | --- |
| Event: | 19th Specialized Trade Fair of Stationery Goods and Office Accessories WORLD of STATIONERY 2019 |
| Dates: | 03 – 06 April 2019 |
| Venue: | ACCO International Exhibition Centre (Kyiv, 40-B Peremohy Avenue, Pushkin Park) |
| Organizers: | Ukrainian Association of Office Supply Suppliers Exhibition Company ACCO International |
The Specialized Trade Fair of Stationery Goods and Office Accessories WORLD of STATIONERY 2019 took place in Kyiv in 3-6 of April. The exhibitors presented 240 brands in 26 product categories and featured the best stationery novelties of the season. The trade fair was attended by more than 3700 specialists.
WORLD of STATIONERY is considered to be the only exhibition in Ukraine with a clear specialization on stationery and office supplies. Its thematic sections cover all the main categories of products for school, office and creativity. These are paper products, writing utensils, office equipment, presentation products and office supplies, folders and goods for organizing archives, leather goods, and children educational books, goods for creativity and hobbies for children and adults.
WORLD of STATIONERY trade fair is the main communication platform for suppliers, manufacturers, importers of stationery and wholesale buyers, owners of retail stores. This year's edition featured 68 companies, which represent 240 brands made in 30 countries of the world. The vent was attended by more than 3700 professionals from different regions of Ukraine and abroad. Up to 60% of the visitors are owners business or chief executives.
Among the largest exhibitors were CENTRUM INTERNATIONAL, WINNER-STILE, AKS TRADE, ART EXPRESS UKRAINE, BRISK RPA, VIVAT TRADING, VITEL, IMPORT-OFFICE UKRAINE, KOLOP, LEADER-KANZ, LOKSI, DREAMS COME TRUE, TRADE COMPANY POSITIVE, RAIDUGA TRADE, SMARTON, TETRADA, TRODAT-UKRAINE, PHOENIX-S, FORM S, SCHOLARIC and others. It is also worth mentioning that the exposition consisted of 20% newcomer companies.
Along with a large number of brands and suppliers presented, visitors could also see a variety of novelties at WORLD of STATIONERY. Thus, TETRADA Company offered notebooks with black and white paper, sets of coloured paper and designer cardboard, and sets of premium black paper, gouache for finger drawing, notebooks folders, pencil cases and bags for school of its own production.
The KOLOP Company introduced a world novelty – the electronic stamp e-mark, which connects to mobile devices via Wi-Fi and makes colour prints on paper, fabric, wood, glass, metal or plastic. A printable image can be created and edited in a free application.
Ankor-DA Company presented largescale magnetic whiteboards Nobo Nano Clean™ with lacquered finishing, incredibly easy to clean. Boards are available in sizes of 32, 40, 55, 70 and 85 inches.
ART-EXPRESS UKRAINE Company was definitely one of the record holders for the number of novelties offered in the category of creativity products. It introduced ROSA Gallery liquid professional watercolour art paints in tubes. And also – sets of oil and acrylic paints ROSA Gallery, acrylic paints for fabrics ROSA TALENT, new ROSA auxiliary materials for painting, notebooks and folders with watercolour paper. As a distributor of many global brands, the Company also demonstrated new products by Smiltainis, Cretacolor, Derwent, Royal Talens and many others.
This year's newcomer, SMARTON Company, offered a range of Casio calculators, starting from simple desktop devices to sophisticated engineering ones. Since April 2018, this company has become the official supplier of Casio brand calculators to Ukraine.
This year's WORLD of STATIONERY exhibition has offered the first acquaintance with Ukraine for Hamelin Company. The manufacturer designs and produces thoughtful and convenient notebooks, organizers under the Oxford brand, well-known throughout Europe. There are lines designed for students, schoolchildren and business people.
However, not only the pavilion area, but also the conference hall, were dedicated to the demonstration of new products – three of the four days of the exhibition were busy with the premiere presentations of exhibitors. Macro Plus Trading Company showed a new collection of Parker. Import-Office Ukraine told about the latest news of ZiBi, Buroclean, and Maped brands, and showed the 2020 Buromax brand diaries. ART-EXPRESS UKRAINE, along with professional artists, tested the new liquid ROSA Gallery watercolours in tubes. And manufacturers were offered the opinion of experienced lawyers of the Fidelium Company concerning copyright protection.
WORLD of STATIONERY exhibition has once again become the main meeting place for wholesale suppliers and buyers of stationery and office goods. It is here that one can see interesting and relevant news, find a reliable partner and client. And do a good deed! At the end of the exhibition, the exhibitors traditionally provided part of their own products for a charity project and helped the organizers send stationery to 10 schools in different parts of Ukraine.